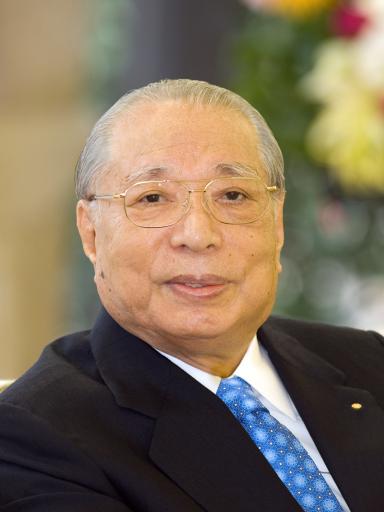 Daisaku Ikeda
Daisaku Ikeda, founder of the Ikeda Center for Peace, Learning, and Dialogue, is a Buddhist thinker and leader, peace builder, prolific writer and poet, educator, and proponent and practitioner of wide-ranging dialogue. Ikeda's dialogue partners have included Arnold Toynbee, Mikhail Gorbachev, Nelson Mandela, Rosa Parks, Herbie Hancock, and Adolfo Pérez Esquivel and other influential figures in the worldwide shift to a culture of peace and mutual understanding. Many of these dialogues have been published in book form.
Born in Tokyo in 1928, Ikeda experienced firsthand the tragic reality of war and militarism. In the chaos of post-war Japan, he came to embrace Buddhism through an encounter with the educator and pacifist Josei Toda, who had been imprisoned for his beliefs during World War II, and who later became the second president of the Buddhist lay organization Soka Gakkai.
As third president of the Soka Gakkai and founder of the Soka Gakkai International, Mr. Ikeda has developed and inspired the largest, most diverse international lay Buddhist association in the world. Based on the 700-year-old tradition of Nichiren Buddhism, a form of Mahayana Buddhism, the movement is characterized by its emphasis on value creation (soka): each individual finding value in their unique path while contributing value to humanity.
Mr. Ikeda has founded a number of cultural, educational, and peace research institutions around the world, including the Boston Research Center for the 21st Century in 1993 (renamed the Ikeda Center for Peace, Learning, and Dialogue in 2009), the Toda Institute for Global Peace and Policy Research in 1996, and Soka University of America in 2001. All of these institutions share a commitment to soka-inspired values of peace and humanism, but function as independent organizations.
For more on Daisaku Ikeda, please see daisakuikeda.org.