Named after the Buddhist expression "from the indigo, an even deeper blue," Indigo Talks is a lecture series launched July 2021 featuring renowned intellectuals in dialogue with enduring works by Center founder Daisaku Ikeda. Just as items repeatedly dyed with indigo turn bluer than the indigo itself, the Chinese allegory of the indigo plant exemplifies the impact learning has on deepening one's wisdom, courage, and compassion.
To date there have been three Indigo Talks, all presented online, with hundreds of people worldwide tuning in. These talks can be viewed below. The inaugural talk was by Francyne Huckaby, of Texas Christian University, whose topic "Two Bundles of Reeds: (In)evitable Pain, (Im)possible Promise," Read an article on her talk here.
The second lecture was given by Johnny Lupinacci of Washington State University in 2022. His talk was called "Envisioning A Better World Together Through Value Creation, Interdependence, and Creative Coexistence." Read an article on his talk here.
The third Indigo Talk was delivered on June 15, 2023. Zeena Zakharia of the the University of Maryland at College Park discussed "Ordinary Solidarities and the Restoration of Humanity." Read an article on her talk here.
 
Watch the 2023 Indigo Talk with Zeena Zakharia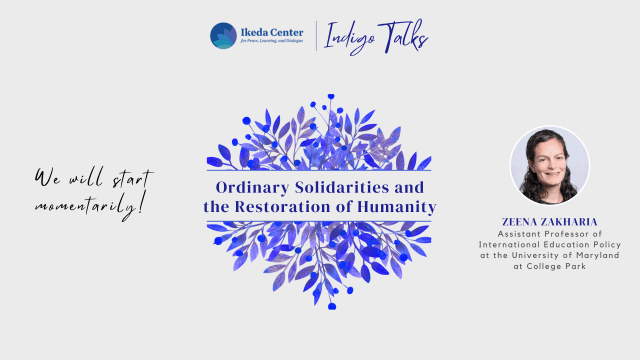 Watch the 2022 Indigo Talk with Johnny Lupinacci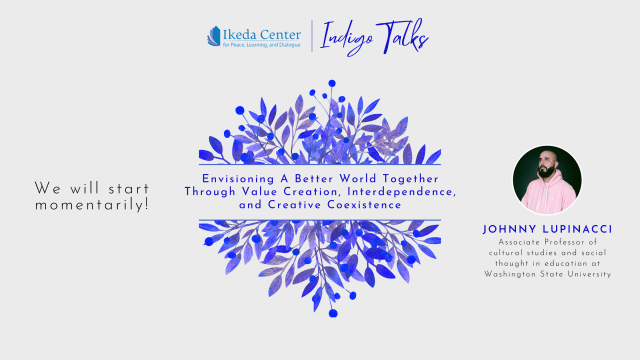 Watch the 2021 Indigo Talk with Francyne Huckaby